Operations for fibroids and polyps
MYOMAS - GROWTHS OF THE UTERINE MUSCLES
Myomas are common, benign growths of the uterine muscles that develop under the influence of the body's own estrogens. One in three to four women is affected by fibroids at some point, usually between the ages of 35 and 50. It is not possible to prevent fibroids; even treatment with medication can only temporarily reduce the size of fibroids.
Myomas must be surgically removed if they grow rapidly and/or cause discomfort (heavy, painful, prolonged menstruation, pressure on the bladder or bowel, discomfort during sexual intercourse, repeated miscarriages). If there is no longer a desire to have children, the entire uterus is often removed; in younger women with a desire to have children, surgery is more cautious and, if necessary, the fibroids are removed gently using hysteroscopy (see below) or laparoscopy.

POLYPS - GROWTHS OF THE ENDOMETRIUM
Polyps, unlike fibroids, are benign growths of the endometrium (i.e., the inner lining of the uterine cavity). Both fibroids and polyps can cause bleeding problems and infertility (childlessness).
Intramural fibroid: grows inside the uterine wall.
Subserosal myoma: grow outward and bulge the peritoneum.
Submucosal myoma: protrudes into the uterine cavity. Such a myoma can cause bleeding disorders and infertility (acts virtually like an IUD).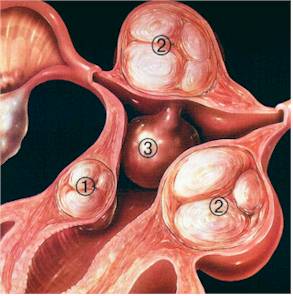 Contact
GYNÉ LANG
Kohlrainstrasse 10
8700 Küsnacht (Zurich)
Phone +41 44 912 25 25
praxis@gynelang.ch

Opening hours
| | |
| --- | --- |
| Monday | 08.00 - 12.00 | 13.30 - 16.30 |
| Tuesday | 08.00 - 12.00 | 13.30 - 16.30 |
| Wednesday | 08.00 - 15.00 |
| Thursday | 08.00 - 12.00 | 13.30 - 16.30 |
| Friday | 08.00 - 15.00 |