Up to 1/5 of women suffer from bladder weakness (so-called urinary incontinence) in the course of their lives - but only about 10% of these women are treated for it!

CAUSES OF INCONTINENCE
One reason for this is that the subject of incontinence is a taboo and affected women find it difficult to talk about it. On the other hand, it is also due to the fact that medical science has only paid increased attention to this condition in recent years. However, these efforts have been successful and today there are a variety of treatment options that can be used individually according to the type and severity of the bladder problems.

CLARIFICATION OF INCONTINENCE (URODYNAMICS)
In addition to a detailed questioning about symptoms and micturition habits, a gynecological examination including ultrasound examination is a prerequisite for an initial diagnosis.
With the help of urodynamics it is possible to draw conclusions about the function of the bladder and the closure mechanism.
The examination is painless and can be performed in our practice. For this purpose, a fine catheter is inserted into the bladder which allows pressure measurement in the bladder and ureter. After filling the bladder with water, it can be objectively determined whether the bladder muscles contract on their own and whether the closing pressure of the ureter is sufficiently high under stress (e.g. coughing). This examination, together with the rest of the examinations, enables the exact diagnosis to be made.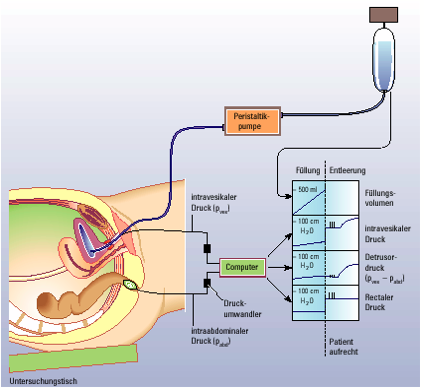 LASER THERAPY FOR BLADDER WEAKNESS
Recently, the Gyné Lang practice has introduced a new state-of-the-art laser device (Fotona smooth) for the treatment of bladder weakness. With the vaginal laser, there is finally a new therapy option in addition to medicinal, hormonal and surgical methods of treatment, which shows promising results in current studies. The treatment, which lasts about 30 minutes each, can be performed without anesthesia, causes (if at all) only short-term temporary irritation and is generally very well tolerated.
Normally, 3 treatments are necessary at intervals of about 4 weeks. Sometimes less is enough, rarely more is needed.
The laser procedure can also be used for other problems such as sagging of the vaginal walls after childbirth, disturbing vaginal dryness during menopause or pain during sexual intercourse.
Costs: unfortunately, the costs of 650.-CHF per session are currently not yet covered by health insurance.
We would be happy to advise you in more detail if you are interested. Please contact us...
OPERATIONS FOR INCONTINENCE

STRESS INCONTINENCE - A TABOO SUBJECT
Stress incontinence is a common and often taboo problem for women. Basically, two forms can be distinguished:
loss of urine when coughing, laughing or sneezing (stress incontinence) and
urine loss due to an excessive urge to urinate.

TVT-OPERATION (TENSION-FREE VAGINAL TAPE)
Attention: The mentioned product requires a prescription, therefore it is not allowed to advertise it. On the website I list current products in a company-neutral way, without advertising any particular product.
The main advantage of this surgical procedure, which was developed in Sweden and has been generally used in Switzerland since 1999, is that it is performed under local anesthesia. A plastic band is guided from the vagina to the left and right behind the pubic bone and tightened tension-free until the awake patient no longer loses urine in the cough test. The urethra is merely supported to prevent it from dropping during stressful situations (coughing, laughing, sneezing).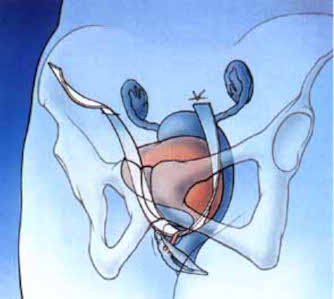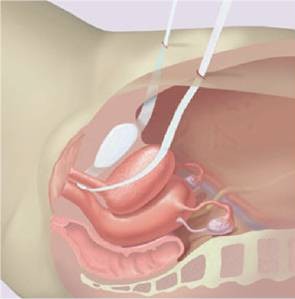 The TVT band is accepted by the body and wrapped with connective tissue (it is made of the same material "Prolene" as the nets used in hernia surgery today). The success rate of the procedure is around 90%.
Patients with supplementary hospital insurance can be operated on with the TVT method in one of the Zurich private clinics.
Contact
GYNÉ LANG
Kohlrainstrasse 10
8700 Küsnacht (Zurich)
Phone +41 44 912 25 25
praxis@gynelang.ch

Opening hours
| | |
| --- | --- |
| Monday | 08.00 - 12.00 | 13.30 - 16.30 |
| Tuesday | 08.00 - 12.00 | 13.30 - 16.30 |
| Wednesday | 08.00 - 15.00 |
| Thursday | 08.00 - 12.00 | 13.30 - 16.30 |
| Friday | 08.00 - 15.00 |