Because of the generally high risk of breast cancer (every 10th woman in Switzerland), any changes in the breast should be taken seriously and clarified accordingly.

BREAST CANCER - WHEN IS A CHECK-UP NECESSARY?
Report for a check-up:
if you notice a lump
if you have pain, especially on one side and independent of the menstrual cycle
if there is discharge from the nipple
in case of redness
if you have lumps under the armpit
in case of retractions
MAMMOGRAPHY SCREENING
In Switzerland, mammography is currently recommended every two years for women aged 50 to 70 (in the canton of Zurich, this is not yet organized on a nationwide basis). In Switzerland, a good 5000 women are diagnosed with breast cancer each year, and 1300 die from it. On average, every tenth woman will be diagnosed with breast cancer during her lifetime. In Switzerland, breast screening by mammography is not covered by health insurance.
Out of 1000 women who participate in this screening program for 10 years
30 will have breast cancer detected by mammography;
2 are operated on earlier thanks to mammography and are cured of breast cancer;
6 still die of breast cancer;
if 200 are diagnosed with a benign change that needs to be clarified (which can lead to uncertainty and fear);
1 woman dies of breast cancer that was not detected in the mammography. (Source: NZZ 7.1.2009)
Based on these figures, every woman can decide for herself whether she wants to go for regular mammography.

BREAST SELF-EXAMINATION BREAST CANCER
Step 1: At the beginning of each examination, look at the breast in front of the mirror with your arms resting against it. Look for changes in size, shape, breast skin, as well as retractions, protrusions and changes in the nipples. Then repeat the examination of your breasts with your arms folded over your head.

Step 2: While standing, feel your chest with all fingers of your hand lying flat - the right breast with your left hand and the left breast with your right hand.

Step 3: It is best to start the palpation examination on the inside of the breast and continue towards the outside. Normally, denser tissue is found in the upper outer third of the breast.

Step 4: Separately examine the tissue behind the nipple and the nipple with the areola. Squeeze each nipple between your thumb and index finger. If fluid appears, look for color and texture and report it to your doctor.

Step 5: Complete the self-examination by palpating both armpits. During this process, pay attention to the formation of nodes. Palpable lymph nodes are usually nothing out of the ordinary, but it is important to recognize changes.
Repeat the palpation of the breast while lying down, occasionally changes can only be detected during this examination procedure.
BREAST CANCER SURGERY
It is estimated that 10 to 15 percent of all women suffer from endometriosis. However, the extent of endometriosis does not go hand in hand with the symptoms - some women do not feel their endometriosis at all, while others experience intense pain early on or suffer from an unfulfilled desire to have children.

UP-TO-DATE PROCEDURE IN CASE OF SUSPECTED BREAST CANCER
If a suspicious lump has been identified by palpation, ultrasound or mammography, a tissue sample is taken using a high-speed punch biopsy (pictured below). This is done under local anesthesia in the office and provides clear information about the nature of the lump.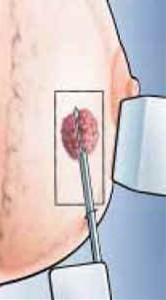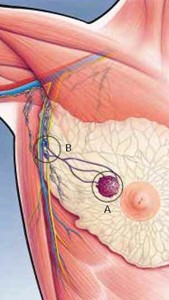 If the node is classified as malignant, surgery is planned. If certain conditions are met, the so-called sentinel lymph node operation can be performed. In this case, only the first lymph node in the lymphatic drainage ("B") is identified and removed in addition to the node ("A" in the picture above right), which makes the complete lymph node removal in the armpit unnecessary, provided that it is not affected.

WHAT HAPPENS AFTER BREAST CANCER SURGERY
The results of the examination are discussed together with a team of specialists, the so-called "tumor board". The gynecologist, tumor specialist (oncologist), X-ray specialist (radiologist), tissue specialist (pathologist) and radiation specialist exchange new findings and determine a customized procedure for each patient.

INDIVIDUAL RISK CALCULATION FOR BREAST CANCER
A computer-assisted risk calculation is available on the English-language site of the U.S. National Cancer Institute. This should be done in conjunction with your physician.

BENIGN BREAST LESIONS: CYSTS, FIBROADENOMAS
Cysts that cause discomfort or reach a size of three or more centimeters are aspirated with advantage under ultrasound guidance (ultrasound-guided fine needle aspiration). Fibroadenomas are regularly checked or surgically removed; the decision to operate is made according to the individual situation.
Contact
GYNÉ LANG
Kohlrainstrasse 10
8700 Küsnacht (Zurich)
Phone +41 44 912 25 25
praxis@gynelang.ch

Opening hours
| | |
| --- | --- |
| Monday | 08.00 - 12.00 | 13.30 - 16.30 |
| Tuesday | 08.00 - 12.00 | 13.30 - 16.30 |
| Wednesday | 08.00 - 15.00 |
| Thursday | 08.00 - 12.00 | 13.30 - 16.30 |
| Friday | 08.00 - 15.00 |